There was a great turnout on Friday, Oct 8th in downtown Redding at the first outdoor State of the City presentation. Underneath the brilliant umbrellas that make up Umbrella Alley, Golden Valley Bank passed out 75 gift umbrellas to guests, sponsors & community members that attended the event.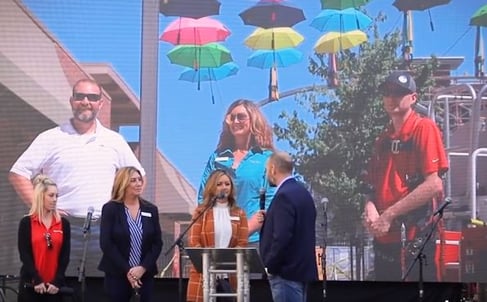 Pictured: John & Ashly Robbins of Signarama, Lisa Geraci and Christy Davis of
Golden Valley Bank and Jake Mangas of the Redding Chamber of Commerce.
Golden Valley Bank was recognized by the Redding Chamber of Commerce for our partnership and our commitment to Umbrella Alley. Umbrella Alley is a component of the Redding downtown revitalization efforts.
In the coming months there will be a plaque installed underneath the umbrellas recognizing all of the sponsors involved in the creation and maintenance of Umbrella Alley.
All of us at Golden Valley Bank are proud to be a part of such a wonderful, community enrichment project.