Kevin and Marla Butler, Julie Gussenhoven, and Scott and Lisa Halsey are valued customers of Golden Valley Bank from the Redding area. We wouldn't be where we are without them and all of our amazing customers.
Here's what they have to say about their experience with Golden Valley Bank!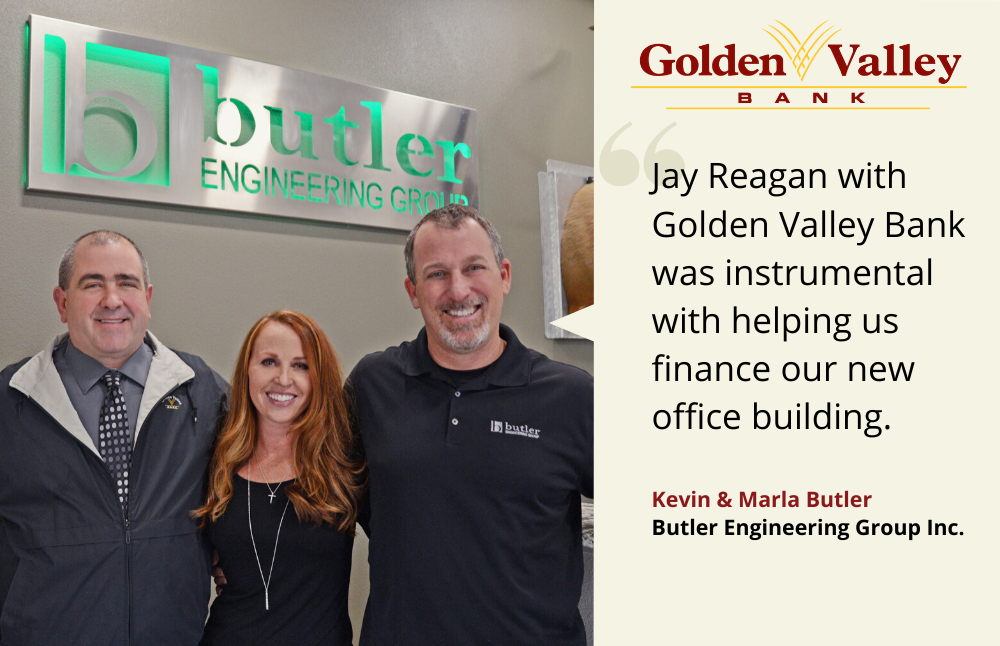 "Jay Reagan with Golden Valley Bank was instrumental with helping us finance our new office building. With Jay's experience, lending relationships and expertise he helped make our dream come true. Jay helped us navigate through both the SBA and the SCED process to secure our construction loan. We have now transitioned all our business banking to Golden Valley Bank. From ease of banking solutions, to lending needs, to assisting in the SBA process – we could not have a better, more efficient business bank. We know we can rely on Golden Valley Bank and the Redding team to deliver on what they say. "
Kevin & Marla Butler
Butler Engineering Group Inc.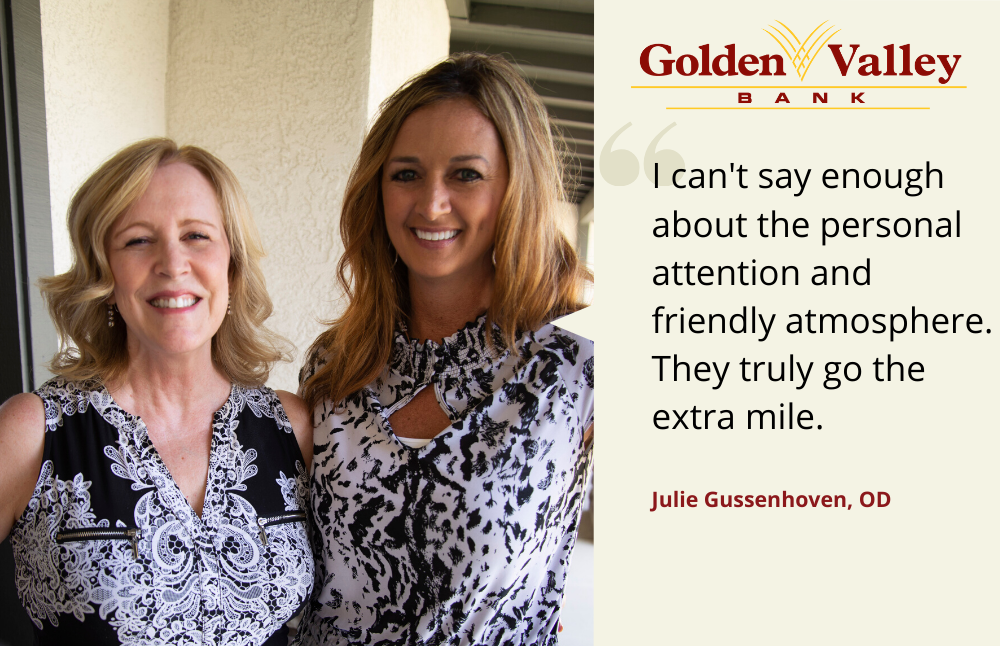 "I met Jay Reagan with Golden Valley Bank in 2011. I had an existing commercial loan with my business partner who was ready to retire. Jay went above and beyond and even assisted with an SBA loan. My interest rate was even better than the existing loan. A few years later when the interest rates went down, he helped me refinance to an even better rate.
Last year, I decided to remodel my commercial building and once again, Golden Valley Bank came through with a line of credit at an excellent rate. After the new branch opened in Redding in October of 2018, I transferred over all of my business and personal accounts. I can't say enough about the personal attention and friendly atmosphere. They truly go the extra mile."
Julie Gussenhoven, OD
"GVB made our commercial building loan process simple and easy. As first-time commercial buyers, we found the staff to be well-informed and attentive. GVB's attention to detail helped us to feel confident every step of the way. They transitioned our accounts quickly and efficiently from our old bank, and we love the user-friendly online banking. The freedom of mobile depositing means less time spent away from our business and more time helping our customers. GVB is invested in our success, and it shows in everything they do. "
Scott & Lisa Halsey, Owners
Scott Halsey's Kenpo Karate