A New Business Online Banking Experience is coming on January 9th!
With Golden Valley Bank's Business Online Banking you can effectively manage your money with easy to use tools. Our new version of Business Online Banking is designed to make your online experience even more user-friendly.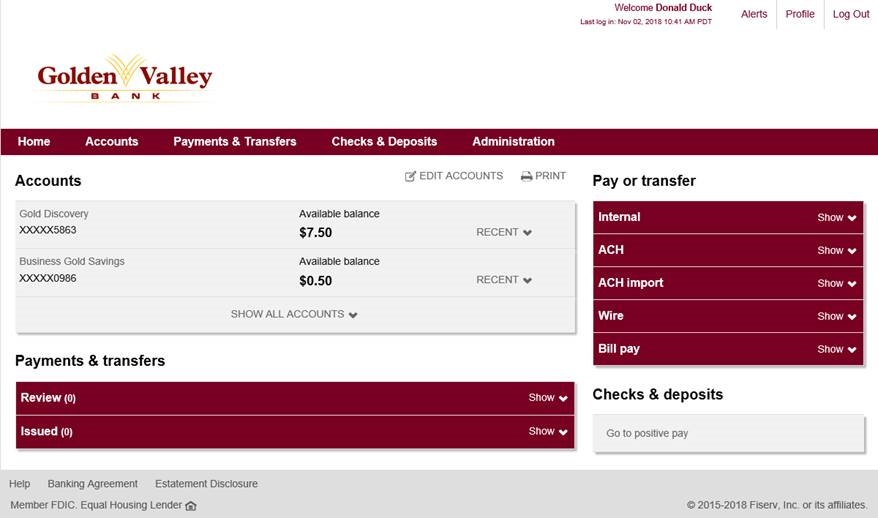 More advanced tools to better manage your business.
Yes, it's a fresh, new look. One that translates perfectly from your desktop to your tablet. Behind that new look, you'll find the same powerful and secure banking software you rely on - with important new features:
Improved navigation
Embedded ACH, Wires and Positive Pay
Enhanced functionality for stop payments

Issued stop payments and their expiration date will now be listed

Improved Transaction History & Search Capabilities
Real-time maintenance for Bill Pay

No more waiting overnight to load changes


First Time Log On
Use the same username and password or token as before. You can now enter the username and password on the same screen. If your mother's maiden name or email is not on file you will be asked to enter during your first log in. This information is collected as additional validation information if you call in to our Electronic Banking Team or if you need to reset your password. You will need to enter identifying questions and answers as an added security measure.
Navigation
See our menu below.

Home
ACCOUNTS LIST
PAY OR TRANSFER – using an existing template
CHECK & DEPOSITS – link to Positive Pay
PAYMENT & TRANSFERS – approve and view issued
Accounts
DETAILS – for the indicated account
DOCUMENTS - eStatements
DOWNLOAD – export to QuickBooks
Payments & Transfers
INTERNAL TRANSFERS
ACH MANAGER
WIRE MANAGER
BILL PAY LINK
Checks & Deposits
STOP PAYMENTS
POSITIVE PAY
DEPOSIT CHECKS – link to eDeposit
Administration
Senior Administrators and Administrator access only
Approve ACH Template or Wire Template changes
Header
WELCOME – Username and last log in
ALERTS – Set up and manage account alerts
PROFILE – Change password and security question
Explore What's New
Q: When will the new Business Online Banking be available?
A: Beginning January 9th, you'll automatically access the latest version of Business Online Banking when you log on. There's no software to install.
Q: Will all of my information be available?
A: Yes. All of your information, reports, templates, and user settings from the previous version of Business Online Banking are automatically installed and ready to use.
Q: Where do I submit my ACH Transfers? (Wires, Internal, & Bill Pay)
A: The ACH Manager, as well as the Wire Manager, Internal Transfers, and Bill Payments are now listed under the Payments & Transfers Tab. Stop Payments, eDeposits, and Positive Pay are under Checks & Deposits
Q: Where is the Transaction Archive?
A: We have improved the access Transaction Search Section to replace the Transaction Archive. You can search for transactions by the transaction type, the amount, and the check number.
Q: What are the symbols next to my transactions?
A: The orange clock indicates that transaction is pending. The clock will change to a green dot when the transaction has posted.
Q: How do I download my transactions to QuickBooks?
A: Open the Account Information Page, click on Download, choose the activity you will be downloading, select the Format .QBO, then select Download Transactions.
Q: Where do I place a stop payment?
A: You can place a stop payment and view issued stop payments under the Checks & Deposits tab. Please note: the standard stop payment fee of $20.00 has not changed.
If you have questions about any of our business services, please contact us at (530) 894-1000.