On July 1, 2018, the requirement for mobile deposit endorsements changed.
Your signature and "For Mobile Deposit Only to Golden Valley Bank" is now required for all checks deposited with our mobile apps.
Unfortunately, if you deposit a check through the mobile app without this endorsement, the check may be rejected. If your deposit is rejected you will not be able to resubmit your deposit via mobile deposit and must deposit it at the Bank.
To help ensure that your checks are deposited conveniently and quickly using our mobile apps, please use this new endorsement.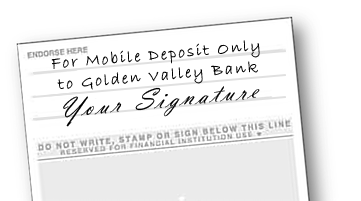 We apologize for any inconvenience this may cause you. This new endorsement requirement is a result of a banking regulation change.
Q&A
Is this a Golden Valley Bank change or is this requirement for all financial institutions?
This new requirement comes from a banking regulation change and applies to all mobile deposits, at all financial institutions. It's not a change just for Golden Valley Bank customers.
Is this new endorsement required on all checks deposited?
This new endorsement only applies to all mobile deposits. It is not required when you visit the Bank to deposit a check or make a deposit at the ATM.
Why is this new endorsement required? It's so much longer than a regular endorsement.
We know the new endorsement is longer and we apologize for any inconvenience this may cause you. This change is being implemented to protect your deposit so that it's not accidentally presented at a bank when it's already been deposited via the mobile app or re-negotiated if the original check is stolen.
Can I use the check box in the endorsement area rather than using this new endorsement?
No, the mobile deposit check box and space for the date is for your record keeping and unfortunately does not meet the new requirement for mobile deposits.
If I am depositing a check for my business do I need to sign my name with the mobile deposit endorsement?
No, business customers should endorse the check to whom it is made payable plus "For Mobile Deposit Only to Golden Valley Bank" underneath.
If I use eDeposit, is this new endorsement required?
No, customers using eDeposit have a different endorsement requirement. Please contact our Electronic Banking Team for more information by phone at 894-1000 or via email at Electronic_Banking@goldenvalley.bank.
We appreciate your assistance in making this change. If you have any questions, please contact us at 894-1000.
Deposits made prior to 5:30pm PST are same day deposits. Deposits made after 5:30pm PST are next day deposits.
Mobile Remote Deposit is functional on iPhone and Android apps only. Data Rates May Apply. Check with your mobile phone carrier for details. Deposits are subject to verification and not available for immediate withdrawal. Deposit limit $5,000 per item/$5,000 per day.
Golden Valley Bank reserves the right to reject any deposit for non-conforming endorsement or any reason.